Blood Suckers Slot Review
One of NetEnt's most classic games, Blood Suckers is a real dark force to be reckoned with! A pretty early release from NetEnt, Blood Suckers is often hailed as the first of its kind in terms of theme. Not to mention the impressively high RTP!
Focused on all-thing vampire with a dark and mysterious edge, Blood Suckers took online slots to new levels – and was considered incredibly sophisticated when first released in 2013. To learn more about what this classic slot has to offer, read this review in full.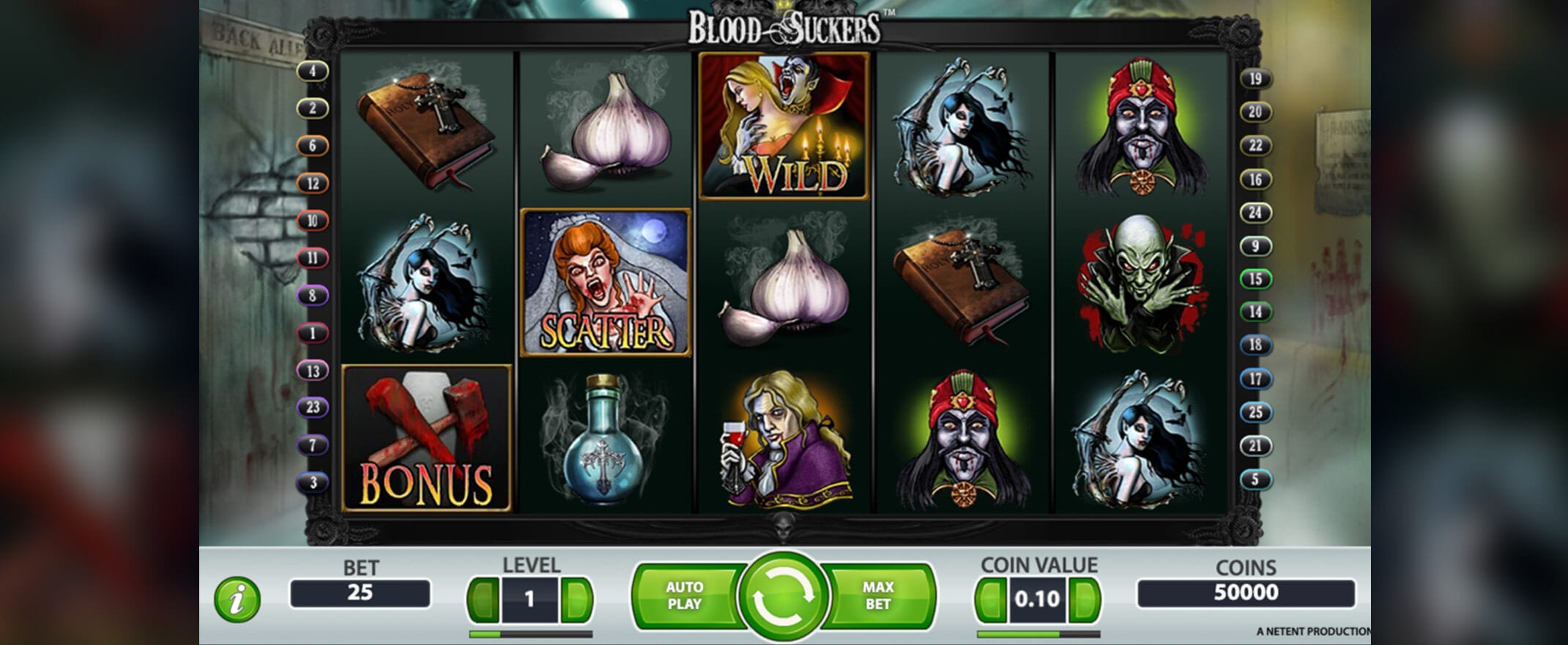 Blood Suckers Slot Gameplay
Dark and bloody with a chilling horror theme, Blood Suckers certainly isn't for the faint hearted. Paying true homage to its namesake, many of this slot's symbols feature blood drips and other vampire-like characteristics. Perfect for avid horror fans who love all things gore.
In terms of actual layout, Blood Suckers features a classic 5 reel 3 row structure to add instant familiarity amongst its pretty out-there theme. The RTP also stands at a whopping 98%, which is considered very high by today's standards. Strongly suggesting that wins are likely to be pretty frequent, Blood Suckers is great for those who don't enjoy taking too many risks.
Blood Suckers Slot Bonus Features
While not progressive, Blood Sugars does offer players the chance to win a jackpot. Amounting to an impressive 30,000 coins, this is transformed into a very lucrative win should it be won. And with the super high RTP, this is a feature that often draws players in.
The Blood Suckers bonus symbol is comprised of a creepy coffin, chisel and hammer. But when they land in a complete row, you'll launch a mini game. Your task is to simply open the coffins and defeat the vampires inside! For every vampire defeated, you'll receive a winning reward.
Blood Suckers Slot Review Summary
While considered a little dated when compared to many of today's more modern online slots, Blood Suckers certainly has its place as a cult classic in the gaming world. A definite pioneer in terms of theme and originality, Blood Suckers has plenty of fans who love its gameplay to this day.
The features and bonuses may appear a little lacking by today's standards, but the nostalgic charm and simple gameplay of Blood Suckers is sure to win you over. And with an incredibly RTP of 98%, what's not to love?!