Mega Joker Slot Review
One of NetEnt's most classic offerings, Mega Joker is the perfect choice if you're looking for a retro slot with old-school influence. Specifically designed to remind us what slots are really about, this fruit machine-style slot features traditional symbols and plenty of bonus features sure to impress.
There's plenty of opportunity to win big here, with random amounts paid out for generating particular combos. Also featuring a randomly-triggered progressive jackpot too, there's definitely more to Mega Joker than meets the eye!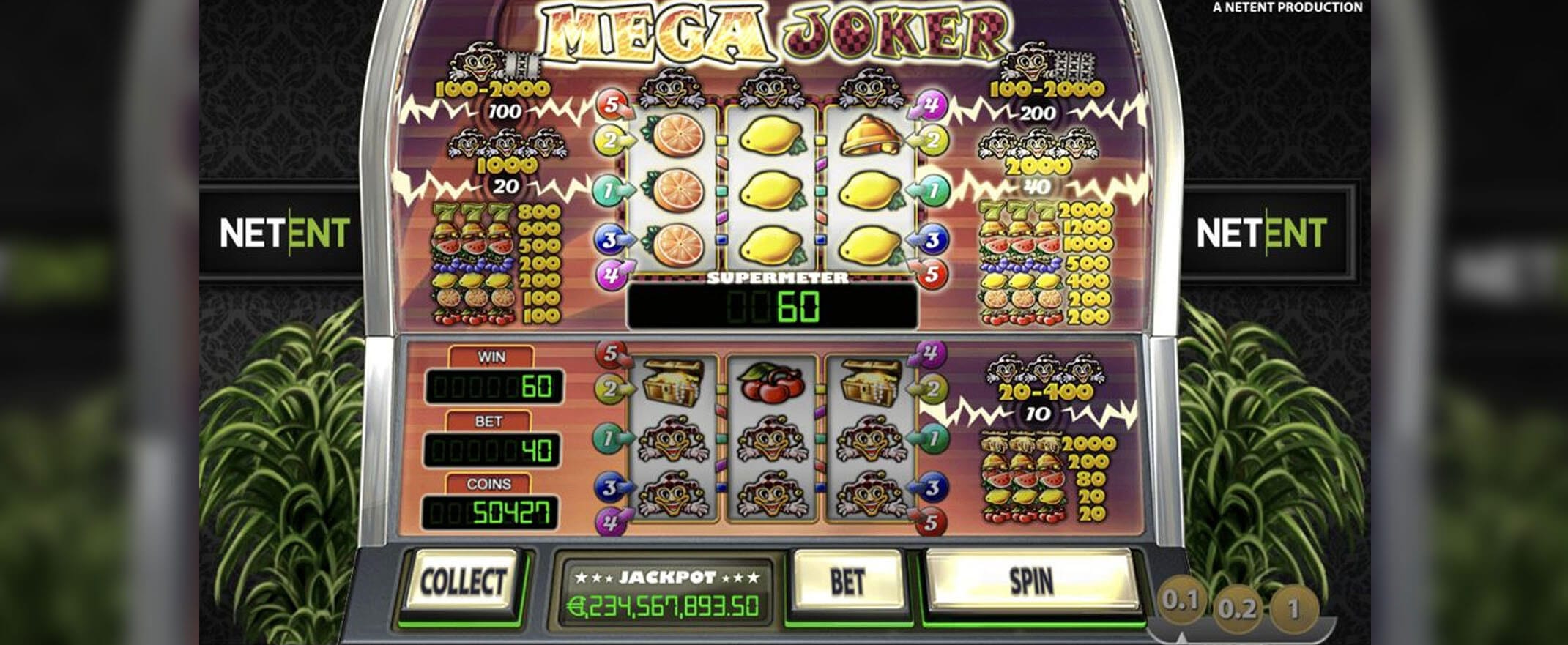 Mega Joker Slot Gameplay
The layout of Mega Joker is super simple. Featuring 3 rows and 3 reels, you can choose whether you want to play with all paylines or not. The maximum is 5, and the minimum is 1. The more coins you wager, the greater the prize options available to you.
However, a slight downside to Mega Joker is a lack of autoplay option. This means you have to manually operate each spin yourself, which may feel a little time-consuming if you prefer letting slots do their thing while you watch.
Mega Joker Bonus Features
Mystery payouts are one of the most prominent features here, as their amount can randomly differ dependent on how many coins have been wagered. There's also an innovative supermeter mode, where you have the chance to win even bigger payouts.
If you land 3 joker symbols on an active payline, you'll receive a mystery payout. And if this occurs in supermode, the payout will be even higher.
You're also likely to experience the Mega Joker's progressive jackpot too. In line with the mystery payouts feature, the progressive jackpot can be randomly awarded on any spin you make. This makes it virtually impossible to predict its appearance. But that's all part of the fun!
Mega Joker Slot Review Summary
If old-school slots with plenty of surprises are your thing, Mega Joker is definitely worth signing up for. Providing an array of mystery payouts and jackpots along the way, every single time you play this slot will be completely different.
So, if you're willing to look past the lacking autoplay function and are up for plenty of unpredictability and random wins, Mega Joker is the perfect destination. Better still, the RTP is able to increase up to a whopping 99% depending on how you choose to bet. There's lots of opportunity to customize your bets and take control, giving Mega Joker the potential to produce impressive wins on a regular basis.