Twin Spin Slot Review
Twin Spin may look like an old school fruit machine, but there's plenty of modern features to sink your teeth into. Developed by online gaming powerhouse NetEnt, Twin Spin is a real force to be reckoned with – and is a favorite of many.
Distinctly Vegas-themed with groovy 70's music playing throughout, Twin Spin is equally brilliant on mobile devices as well as a desktop. For more information on what this unique slot can provide, keep reading.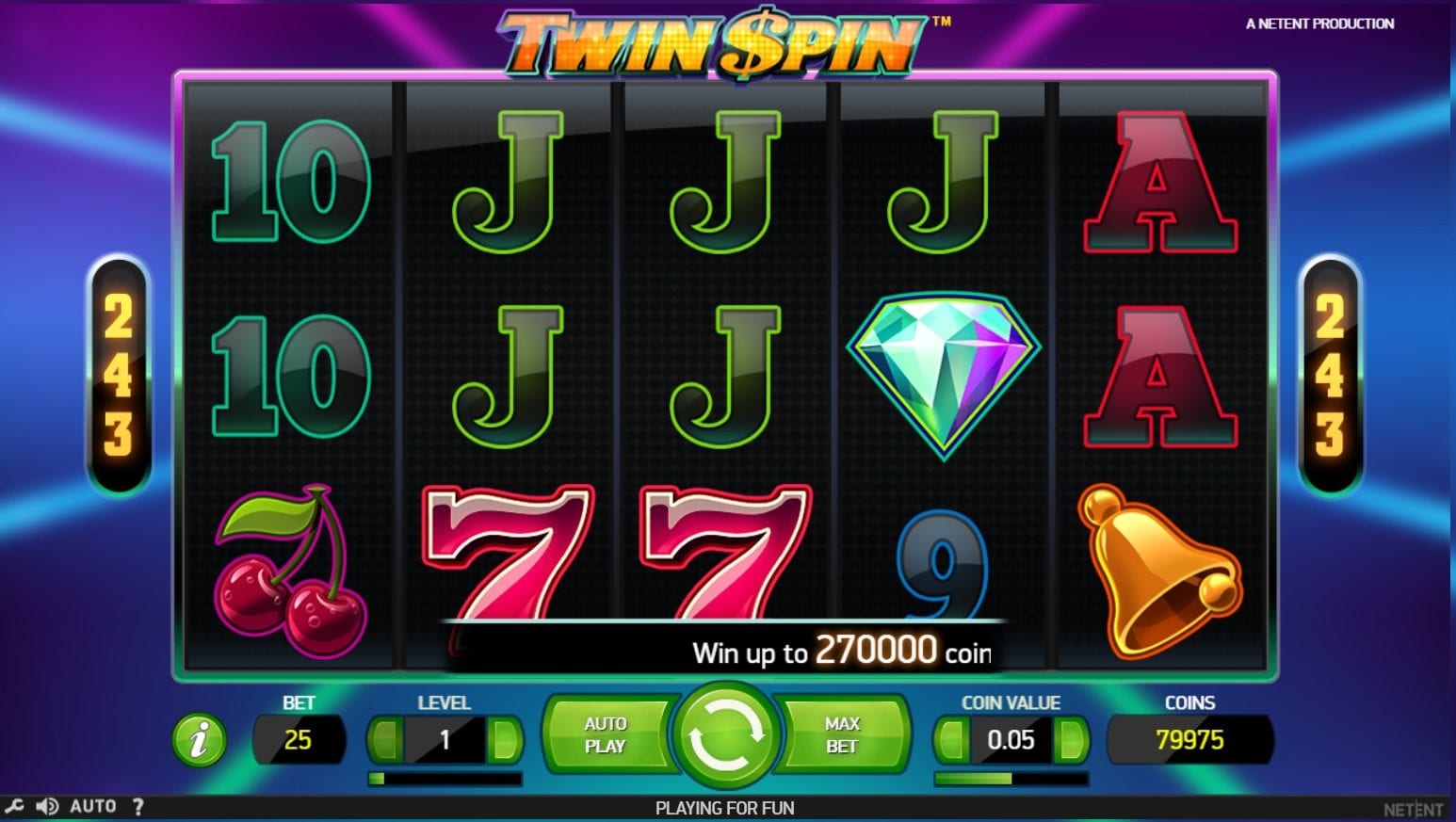 Twin Spin Slot Gameplay
Twin Spin features 5 reels and an impressive 243 paylines. This offers a wide variety of ways to win, and many players are drawn in because of this. The current RTP sits at 96.6%, and is considered a medium to high variance slot. However, its gameplay is a little deceiving.
Twin Spin frequently churns out small wins, which often makes players assume it's low to medium variance. But when you actually analyze the value of these wins, they're very low and only offer enough to keep you going. So the real money maker here is for those willing to take risk and be patient, as you could win up to 100x your bet if you're able to put the time in without getting cold feet.
Twin Spin Slot Bonus Features
If you've ever played a classic fruit machine, the symbols used throughout Twin Spin will look very familiar. From cherries to bars to lucky 7s, a diamond is the symbol with the highest value. Wilds can only land on reels 2, 3 and 4 – and this counts as our first bonus feature.
But perhaps Twin Spin's most iconic feature appears in the form of joint reels (or twin reels as we like to call them!). On virtually all spins, at least 2 reels will link together and clone. Therefore, the 2 linked reels will feature the exact same symbols throughout, giving greater chances of achieving winning combinations.
And if you're lucky enough for the twin reels to expand further, you could end up with 5 identically matching reels with huge chances of winning big.
Twin Spin Slot Review Summary 
If you're a fan of classic themed slots and 70's music, Twin Spin is definitely worth checking out. From its traditional symbols to simple gameplay, there's not much to dislike here.
However, it's important to remember that this is a relatively volatile slot – even if it doesn't play like one. Patience and a little risk will be required for the big wins. But if you're happy with that, Twin Spin is yours for the taking!